Top 5 Sushi Restaurants Downtown Toronto

The past four years, since I moved to Toronto, sushi has been a weekly staple in my diet. I have tried many places throughout the GTA and not often have I been disappointed. Of course there has been the rare and inevitable occurrence that I was left feeling less than satisfied; fish too fishy, rice not sticky, wasabi too bland… Thankfully I have more success stories to share than horror. The following five selections are my go-to sushi restaurants that have served me tirelessly and have yet to fail me.
1. Blow Fish Restaurant and Sake Bar — 668 King Street West | 416 860 0606 | Service: 10/10 Cuisine: 10/10 Cost: High– but worth every penny
I think we all knew this was going to be my number one choice and those of you who have attended this delicious little gem on King West I'm sure will agree. From the moment I first stepped my black suede pumps into Blow Fish I knew we were going to have a passionate and lasting relationship. Pink glowing lights and a DJ spinning good music at a perfect volume are just two of the first aspects that caught my hard-to-capture attention. The attentive service and the exquisite cuisine is what keeps me coming back again and again. Each time I tell myself I am going to try something new but always remain true to my first loves:
i. Spicy tuna on crispy rice topped with jalapeno and daikon sprout $16
ii. Zesty black angus beef tenderloin taretare served with quail egg and potato gaufrette $19
I have obviously tried a selection of other items on the Blow Fish menu but these are two items I refuse to go without. I mean come on, give me some raw meat with a quail egg and something crispy to dip into it and I am a satisfied woman! Please friends, I strongly urge you to test out these items for yourself. They are fresh and simply scrumptious! Something else I almost always order (wherever I go,) is the salmon sashimi ($6 for three pieces.) Blow Fish's salmon sashimi is tender and melt in your mouth. In other words; heavenly. One order of this per table is never enough. I would recommend one per person as I am convinced you won't be willing to share.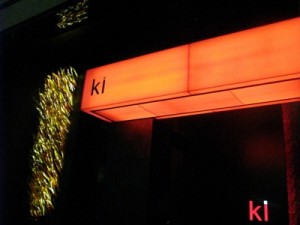 2. ki modern Japanese + bar — 181 Bay Street | 416 308 5888 | Service: 10/10 Cuisine: 9/10 Cost: High — and rightfully so!
Located in the heart of Toronto's financial district, ki is typically host to Bay street's finest. Thats right ladies, looking to hook yourself an investment banker? Tidy yourself up a little and head on down! It is a large venue but remains very cozy and intimate. An interesting design feature about ki is that it is surrounded by an indoor moat that you waitress with warn you not to fall or drop anything in to as you are seated at one of its large and comfy booths. I had the pleasure of receiving an invite to ki this past Wednesday. Our visit began a little rocky as it was jam packed and seemingly were under-staffed but when we were finally seated the evening redeemed itself with delicious cocktails and tasty sushi and sashimi. I even tried butter fish for the first time and boy have I been missing out! It was delicious, but then again, not much at ki isn't.
My ki check list consists of:
i. Assorted seaweed salad with sesame-ponzu dressing $9
ii. Rock shrimp with spicy wasabi-garlic cream dip $16
iii. ki beef maki, teryaki-glazed Canadian AAA striploin, scallions, sesame seeds, sweet potato tempura and asparagus $15
These are three must haves when attending ki. Honestly, I don't know why I continue to write these pieces on an empty stomach… My mouth is literally watering as I think about the delicious wasabi-garlic dip for the rock shrimp and the rich and sweet sesame-ponzu dressing that tops the seaweed salad. Mmmmm! Talk about tasty! These three dishes are perfect for one person to enjoy themselves, add an order of delicious Mutsu (butter fish sashimi, $7,) Sake (Atlantic salmon sashimi, $7,) and spicy salmon rolls ($15,) and you have enough to share with your date. I am telling you, you have never tasted a spicy salmon roll like the ones ki serves sitting in a tangy raspberry sauce that contains just the perfect amount of spice and heat.
3. Sushi Xtra — 423 Queen St. West, Unit 101 | 416 599 2688 | Service: 10/10 Cuisine 10/10 Cost:
Moderate One of our fabulous city's little gems, Sushi Extra is home to some of the most decadent and delicious sushi rolls I've tried to date. Anytime I visit this spot I don't even bother looking at a menu and take a seat right at the bar which has a sushi train constantly in motion. The plates are color coded based on price and range in cost from about $5 to $10 per dish. As the train makes its way around each roll is more delectable looking then the next; piled high with crispy tempura bits or thinly sliced sashimi and topped with all different brightly colored sauces. However, I must warm you, even as cost-efficient as Sushi Xtra is, it is very easy to rack up a bill.
With a happy hour special every weekend until 4PM – walk in ONLY.  I always end up with five or six plates in front of me, inevitably. Half price you can't go wrong here! That being said, even the most expensive options at Sushi Xtra are still reasonably priced so never fear my sushi lovers on a budget! When it comes to my top picks at Sushi Xtra I really don't have any specific favorites because this is one of the rare times that I do try something new each and every visit. My only rule is the prettier and more creative the better!
The service at Sushi Xtra is definitely note worthy. As you walk through the door you are greeted with a friendly hello from all of the staff including the sushi chefs who are preparing the dishes before your eyes. During your meal the staff is extremely attentive without being bothersome, (there is nothing worse than wait-staff who REFUSE to let up… Sorry but you just cut your tip in half my friend!) This is not something you will experience at Sushi Xtra, or at either of the two above mentioned sushi restaurants. So sit back and watch as the beautiful pieces of sushi float past you and grab as many plates as you like, whose counting?!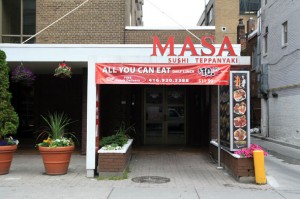 4. Masa Sushi — 15 Charles Street | 416 920 3388 | Service: 6/10 Cuisine: 8/10 | Cost: Moderate
Located just off Toronto's bustling Yonge street, Masa sushi is where I uncovered my love for sashimi and never looked back. I tried my very first piece of salmon sashimi and beef sashimi during an extravagant lunch date with a few girl friends one fine summer day a couple of years ago and have been lusting ever since. For several consecutive months I attended Masa every Saturday night. Each time my friend and I went we tried to give a few new menu items a shot, but we always remained loyal to:
i. Kaki fri, deep fried breaded oysters $5.99
ii. Beef sashimi $8.99
iii. Salmon sushi pizza, a crispy sushi rice base topped with salmon sashimi, green onions and spicy mayo $7.99 (Hold the tobiko– as adventurous of a foodie as I am, I truly do not find any enjoyment in tobiko aka fish eggs. Just not for me!)
Honestly, I know the words 'deep fried' can be slightly terrifying (and tantalizing, might i add… Oh stop you know its true!) and I do try my best to stay away from this type of dish but these oysters are simply too juicy and satisfying to pass up. Everything is okay in moderation, right? Being the life long passionate food lover that I am, sometimes you just gotta throw caution to the wind and have your oysters prepared fried in oil! Why not?! These will be the biggest load of delicious empty calories you ever didn't regret, you have my word. Crispy and juicy… Now on to the raw goods– beef sashimi. Never did I think I would be the die hard lover of raw beef that I am today. My mother once said to me "I have one daughter who is a vegan and won't eat a vegetable and another daughter who is standing before me eating raw beef." Who'd have thought?! However, here I am, always on the hunt for a delicious piece of meat in all of its raw glory and Masa is always my go-to place to satisfy my craving for an amazing serving of thinly sliced beef sashimi.
As good as the food is at Masa, the service could use a once over. Nothing crazy– but a few times the waitress has forgotten a dish or two but I mean who can blame her when the order is about 13 dishes deep at any given time! Still, this is absolutely no excuse. Get your sh*t together kids! As I said earlier, I quite literally attended Masa on a weekly basis so that has to tell you something about the quality of its cuisine. Should you find yourself shopping along Yonge Street and feeling the urge for a little sushi in your life, I strongly suggest you check out one and eventually both of my #3 and #4 spots.
5. NOKA All You Can Eat Sushi— 513 Bloor Street West| 647 351 1188 | Service: 10/10 Cuisine: 8.5/10 Price: Reasonable
Located west off of Spadina on Bloor Street, Noka Sushi will leave you pleased each and every time. When it comes to All You Can Eat Sushi Restaurants, the first thing that comes to your mind will be the quality and variety of dishes. If so, here is one of our favourite AYCE sushi restaurants.  Since May 2012, Noka sushi bar has been bringing customer satisfaction to the table by serving fresh food and quality service ensuring you are satisfied and willingly will come back for more.  With over 100 items on the menu, it may take you a few moments to think about what you will be ordering, at least that is what always happens to me. I tend to find myself going to Noka when I am extraordinarily hungry. My eyes want more, but I know better what my stomach can handle.
When I first saw the menu, I gotta say I was pretty impressed. Unlike any other AYCE Sushi Restaurants, Noka offers a variety of different kinds of sushi, rolls and sashimi. Their signature rolls get me every time, so if you are a big fan of special rolls or want to try new types of rolls, I recommend starting off with the Noka Spicy Salmon. They also serve Japanese style appetizers, noodles and teriyaki. Oh if you are a vegetarian, they also have a menu for you. Don't forget to have some desserts because they have delicious and very Japanese style desserts that you never had before. Out of all the you can eat sushi restaurants in the city, Noka is by far on my top list. When in the Bloor Street area, check them out yourself.
https://twitter.com/nokatoronto
 https://www.facebook.com/NokaContemporaryJapaneseCuisine
---
Get more updates on the latest gossip within your city and everything else fabulous before your friends do!

Click here for our exclusive newsletter and Like us on Facebook to stay up-to-date.
---